Put your professionalism in a good light!
As a matter of fact it is not possible to approve color accuracy in a regular office environment due to metamerism. For this reason ISO3664:2009 compliant lighting systems where introduced. Inconsequent actions in prepress frequently leads to disappointment with the final print product and in some cases it may even lead to claims.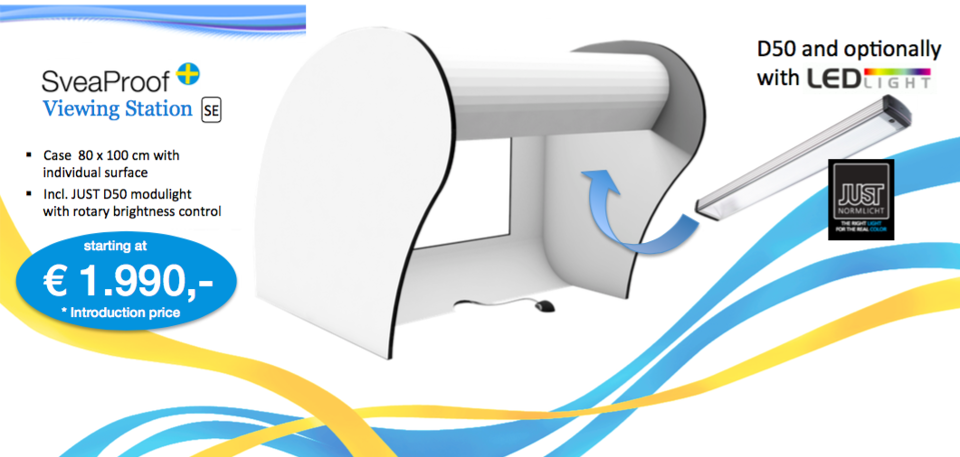 SveaProof Viewing Station is a desktop solution that turns your workplace not just into a D50 viewing booth. With your monitor integrated it allows you to compare proof-prints and printed matters directly to your screen. Our entry version (SE = softproof entry) only requires a calibrated monitor and Photoshop or Acrobat adjusted to "Proof Setup".

Use your own design and put your own brand or one of your customers into focus. This way an indispensable tool also becomes a creative expression of your professionalism when handling customers advertsing. The entry version at 1.990 EUR only requires a calibrated monitor and Photoshop or Acrobat adjusted to "Proof Setup".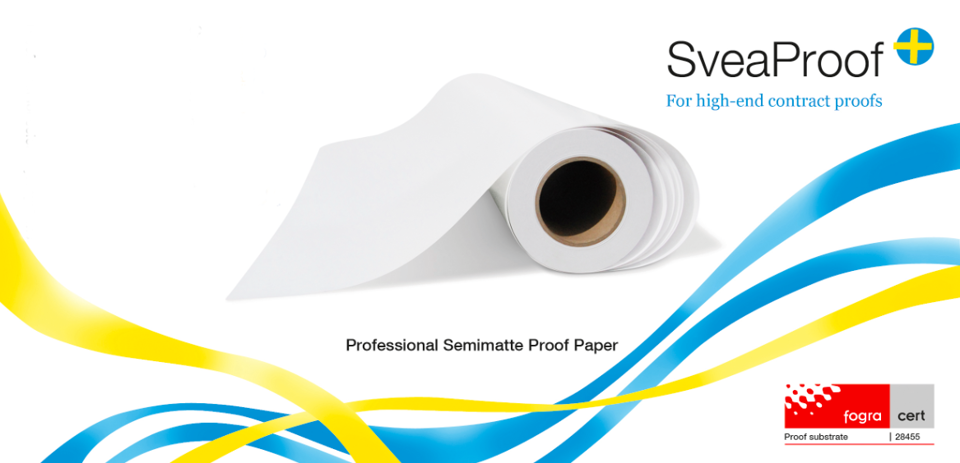 Best quality - at lowest price possibe
SveaProof is a proofing paper at premium quality which can replace expensive alternatives from for example GMG, EFI, or EPSON without a need for editing profiles or other settings. Our development was focusing on matching white-point and ink trapping properties as close as possible to existing premium papers on the market.
Direct sales allows us to offering a premium paper at prices that are often 30% lower as the markets leading brands. SveaProof features advantages as
Extremly low messurement values
Superior drying properties
Excellent flatness
Fewer paper changes due to 45m roles
Compelling pricing
Send us an email with your estimated annual consumption, reel-widh and desired quality and you will receive our offer and a paper sample.
SveaProof is available in the following qualities and sizes:

Grammatur: 190 g/m2 + 250 g/m2
Qualität: semimattes Papier
Breiten: 13" (33 cm), 17" (43,2 cm) , 24"
(61 cm), 36"(91,45 cm), 44" (111,8 cm)
Rollenlänge: 45 m (100')
Kern/Core: 3" (7,6 cm)

Sowie als Formatware:
A3+ (13" × 19") 330 × 483 mm
zu 100 Blatt per Schachtel