RemoteDirector

- Pioneers of Color Proofing on the Display
Softproofing or monitor proofing is simply a mechanism that allows you to view on a computer screen what your image will look like when printed on paper or displayed on your website. So, if you were able to view your image through the printing profile, you would be able to see how that particular combination of ink and paper would reproduce it, taking into account the gamut as well as other characteristics of the inks used.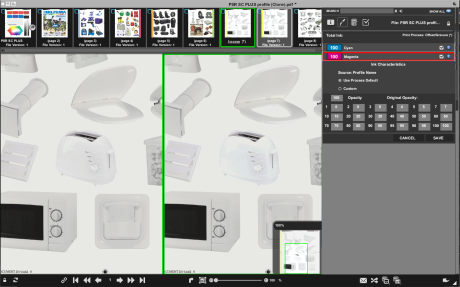 RemoteDirector allows to adapt paper simulation and dot gain to any standard profile. With help of the Compare tool you can compare and toggle differnces between versions or clones.

Collobarate on color and content for packaging designs. The 3D view allows you to preview designs made on foils and cardboard in a revolutionary way. Apply spot-color changes to any channel and import measured spec-data or CxF-data.
RemoteDirector has many advantages over
its predecessor hard copy or contract proofing:
Softproofing combines color accuracy, content review and collaboration in one central location
No handling, routing, trafficking or managing of hard copy proofs
Ability to collaborate with partners all over the world
Softproofing simplifies the workflow, taking the pressure
off timetables
Faster turnaround, more flexible system permits
last-minute changes
Softproofing helps to make your business more eco-friendly

RemoteDirector can be implemented anywhere in your workflow and provides significant savings on consumables and transport costs. Many of todays conventionally produced contract proofs are used solely for internal purposes. Costs for these proofs can usually not be forwarded to the end customer. By employing softproofing in your workflow, many superfluous paper proofs can be saved.

RemoteDirector saves time and money and generates proofs that are accurate, repeatable and supported by approved industry standards. Softproofing is consistent, stable, measurable, efficient, fast, collaborative and exacting.The benefits are real, and strongly suggest that softproofing is a business decision, not a creative decision.